The Apheresis Unit is open Monday to Friday from 8am to 5pm; Staff available 24 hours, 7 days a week, for emergency procedures
Call 804-828-0093 {for after hours: please page the CP resident on call on virtual pager #9425}
"The staff was exceptional in all areas. Every effort was made to reduce anxiety and promote a sense of well-being! Thanks for making a potentially stressful experience much less so." - A delighted customer
Apheresis is a procedure by which whole blood is withdrawn and separated into its components by centrifugation using automated blood processors. The components are selectively removed and/or replaced depending on the disease process. The Apheresis Unit is an inpatient and outpatient unit providing therapeutic apheresis procedures to adults and children. It was established in 1974 and serves as a regional referral center. It is the only permanent facility within a 100-mile radius providing 24-hour coverage. Five Registered Nurses with over 50 years in combined apheresis experience, and a team of clinicians specializing in apheresis procedures currently staff the unit.
Our Services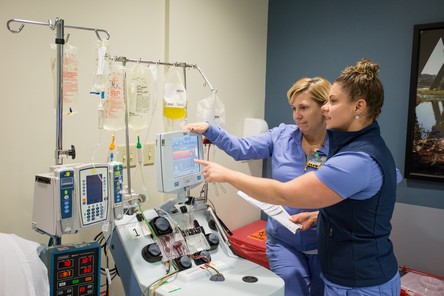 We provide apheresis and therapeutic phlebotomy services.
Our Apheresis Unit is accredited by the Foundation for Accreditation of Cellular Therapy (FACT). For more information on this accreditation, visit the FACT website.
Apheresis

Erythropheresis (red cells) - sickle cell anemia
Leukopheresis (white cells) - leukemia, stem cell collection for transplantation
Plasmapheresis (plasma) - renal, neurologic, hematologic, and hepatic disease, transplant rejection
Photopheresis (white cells exposed to UV light) - cutaneous T-cell lymphoma, GVHD, organ rejection
Lipid Apheresis

Therapeutic Phlebotomy - performed on outpatients with disorders such as hemachromatosis, porphyria, and polycythemia. These procedures also can be scheduled depending on patient status and space availability in the unit. Contact the Apheresis Unit to schedule patients and provide:

Physician order Medical history including current labs
Insurance information/Referrals
Scheduling
To schedule a procedure please call (804) 828-0093. Twenty-four hours notice is necessary for some procedures. Please provide appropriate insurance and referrals. Please provide at least 24-hours notice if unable to make an appointment. Fees will be charged for appointments not cancelled.
Leadership and Contacts
Director of Apheresis: Susan D. Roseff, MD
Director of Transfusion Medicine: Kimberly W. Sanford, MD
Associate Director of Transfusion Medicine and Apheresis: David Wilkinson, MD, PhD