Andrea Ferreira-Gonzalez, PhD
Chair, Division of Molecular Diagnostics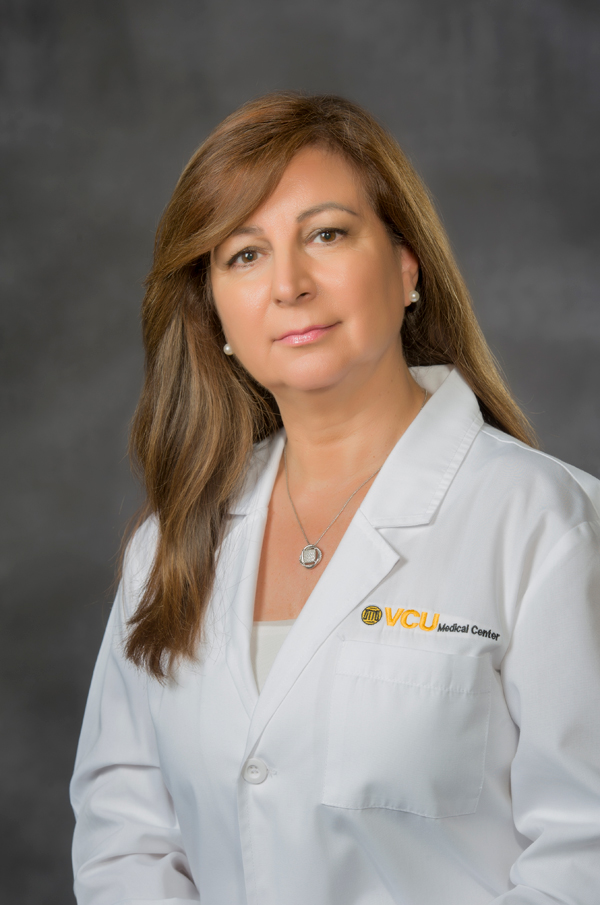 Professor of Pathology; Chair of Molecular Diagnostics Division
Department: Pathology
Phone: (804) 828-9564
Fax: (804) 825-4738
Email: Andrea.Ferreira-Gonzalez@vcuhealth.org
Andrea Ferreira-Gonzalez, Ph.D., was appointed Chair of the Division of Molecular Diagnostics in the Department of Pathology at the Virginia Commonwealth University Health System in July 2008. She has also been the director of the Molecular Diagnostics Laboratory at VCU Health Systems since 1994. She received her Ph.D. degree from the George Washington University in Washington DC in 1994 and a master's degree in Clinical Biochemistry from the National University of Cordoba, Argentina and is board certified by the American Board of Bioanalysis as High Complexity Laboratory Director and Clinical Consultant.
Dr. Ferreira-Gonzalez is an internationally recognized expert in molecular diagnostics in the areas of genetics, oncology, precision medicine, and infectious diseases in transplantation. In addition, she played a significant role in shaping national policy regarding the practice, reimbursement, and guideline development for molecular diagnostics and genetic testing. Her publication record demonstrates well over 100 publications in peer-reviewed literature and chapters. She is sought both nationally and internationally in the scientific, health management, and business development communities as an accomplished leading authority.
At the national level, Dr. Ferreira-Gonzalez is a consultant for the US Health and Human Services Department for the FDA's Clinical Genetics Panel of the Medical Devices Advisory Committee, Center for Devices and Radiological Health. She also serves in the Genomic Medicine Advisory Committee for the US Department of Veterans Administration. She served as a member of the Secretary of Health and Human Services Advisory Committee on Genetics, Health and Society (SACGHS), where she was the Chair of the SACGHS Task Force on Genetic Testing Oversight and the Personalized Healthcare Workgroup. Dr. Ferreira-Gonzalez also served as a member of the Clinical Laboratory Improvement Advisory Committee (CLIAC) to Health and Human Services. She has been involved in developing clinical guidelines with the Clinical and Laboratory Standards Institute and the Association for Molecular Pathology (AMP). She also served as President of the Association for Molecular Pathology,Chair of the Professional Relations Committee, and Secretary/Treasurer for the same organization. She was the chair of the American Association of Clinical Chemistry nominating Committee and chair of the Capital section for the same association. More recently, Dr. Ferreira-Gonzalez served on the Department of Justice and the National Institute of Standard and Technology National Commission on Forensic Sciences. She was the recipient of the AMP Leadership Award for her significant contributions to the field. At the international level, she is a member of the Molecular Biology Education Committee for the International Federation of Clinical Chemistry (IFCC). She has participated over the last 6 years in developing educational standards and hands-on workshops on genetic testing for developing countries.
Dr. Ferreira-Gonzalez is interested in clinical translation research and the clinical implementation of new nucleic acid based technology for patient care. This is reflected in her research and publications relating to new technology such as Next Generation Sequencing for different clinical applications. She served as a PI on several industry sponsored clinical trials for different clinical applications of devices. A number of these clinical trials resulted in FDA approval of those devices.
Dr. Ferreira-Gonzalez has a passion for molecular diagnostics education and has had an active role in the Department, Medical Center, and as an invited lecturer/course director at both national and international meetings such as the College of American Pathologists, American College of Medical Genetics, Association for Molecular Pathology, American Society of Clinical Pathology, American Association for Clinical Chemistry and International Federation of Clinical Chemistry.
Clinical Specialties: Development and Application of Nucleic Acid Probe Technology to Diagnosis and Monitoring of Human Diseases
Dr. Ferreira-Gonzalez Web CV(pdf)