Lorin Bachmann, PhD, DABCC
Clinical Chemistry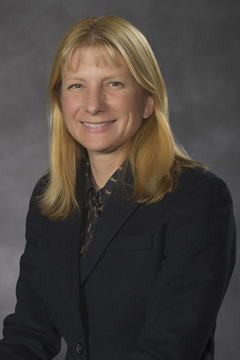 Professor of Pathology; Co-Director of Clinical Chemistry; Co-Director of Point of Care Testing; Director of the New Kent Emergency Department
Department: Pathology
Phone: (804) 828-6407
Email: Lorin.Bachmann@vcuhealth.org
Lorin Bachmann, PhD, DABCC, joined the VCU Department of Pathology in 2007. She currently serves as Co-Director of Clinical Chemistry, Co-Director of Point-of-Care Testing, Director of the New Kent Emergency Department Laboratory, Technical Advisor for the Operating Room Laboratory, Pathology Outreach and Clinical Trials, and Laboratory Director for multiple VCUHS outreach laboratories. She received her PhD in Molecular Medicine from the University of Virginia, followed by a fellowship in clinical chemistry and proteomics research at the University of Virginia. She is certified by the American Board of Clinical Chemistry.

Dr. Bachmann is active within the American Association for Clinical Chemistry (AACC), where she serves on the Finance Committee and Nominating Committee. She also serves as the Chair of the Chemistry and Toxicology Expert Panel for the Clinical Laboratory and Standards Institute (CLSI), and as a member of the College of American Pathologists (CAP) Accuracy Based Programs Committee.

Dr. Bachmann's research interests include evaluation and validation of new clinical laboratory assays, clinical laboratory analyzer design, development of mass spectrometry-based assays for the clinical laboratory and standardization of laboratory testing. She serves as a member of the National Kidney Disease Education Program (NKDEP)/International Federation of Clinical Chemistry Laboratory (IFCC) Joint Lab Working Group, whose goal is to accomplish standardization of urine albumin methods to enable utility of clinical decision thresholds.

Dr. Bachmann has received numerous awards for her contributions to professional societies, education and research. She serves as principal investigator for multiple industry-sponsored studies.

Research Interests: Clinical studies for new laboratory assays, standardization of clinical laboratory methods; development of LC-MS/MS technology for the clinical laboratory.
Dr. Bachmann Web CV (pdf)