David Wilkinson, MD, PhD
Transfusion Medicine & Molecular Diagnostics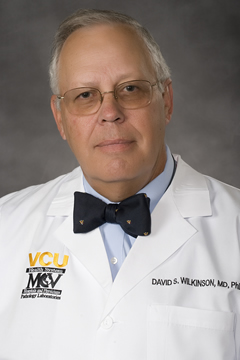 Professor Emeritus of Pathology
Department: Pathology
Phone: (804) 828-0184
Fax: (804) 827-1078
Email: David.Wilkinson@vcuhealth.org
Dr. Wilkinson is currently Professor Emeritus of Pathology at the Virginia Commonwealth University in Richmond, Virginia. Dr. Wilkinson has over forty years of experience in biomedical research, medical education, and clinical practice. He received his BS in Chemistry from the Virginia Military Institute, his PhD from the University of Wisconsin and his MD from the University of Miami. He is certified in both Anatomic and Clinical Pathology. He served as Director of Clinical Pathology and Interim Hospital Medical Director at The George Washington University Hospital, and as Secretary of the George Washington University Health Plan prior to taking his position at VCU. He served as Chair of the VCU Department of Pathology from 1993 until 2013. For 18 years, he chaired the VCU Health System Managed Care and Contracting Committee, which oversees the contracting activity for the medical services provided by both MCV Physicians and MCV Hospitals, components of the VCU Health System. Dr. Wilkinson also served as Director of the Molecular Genetic Pathology fellowship program from 2008 until 2014 and Director of the Pathology Residency Program from 2005-2008 and again from 2016-2019.
Dr. Wilkinson's research interests have included the study of mechanisms of action of antitumor agents, molecular diagnostics, flow cytometry, and automated intelligent microscopy. The NIH, the American Cancer Society and the Damon Runyon Walter Winchell Cancer Fund have funded his research. He served as Editor-in-Chief of the peer-reviewed journal, Clinical Laboratory Management Review from 1989 until 2004, was co-editor of the textbook, Management in Laboratory Medicine, and section editor of the textbook, Clinical Laboratory Management. He is Past President of the Association of Pathology Chairs, Past President of the Virginia Society of Pathology, a former Trustee of the Richmond Academy of Medicine and a former member of the Board of Directors of the World Association of Societies of Pathology and Laboratory Medicine. Dr. Wilkinson currently serves on the College of American Pathologists' Economic Affairs Committee, and as an alternate for the AMA RBRVS Update Committee.
Clinical Specialties: Transfusion Medicine, Molecular Diagnostics, Medical Informatics, Therapeutic Drug Monitoring and Laboratory Management.
Dr. Wilkinson Web CV (pdf)

Search PubMed