TDAAC is a resource designed to provide high quality controlled human tissue samples to VCU investigators as well as provide customized services to assist them in all tissue collection, consenting, and processing needs. 
The core represents a close collaboration within and between multiple disciplines and departments within VCUHS including the Massey Cancer Center and Departments of Pathology, Surgery, and Internal Medicine.


Mission
To provide support for biomedical research at VCU by maintaining and providing a bank of high quality human tissue samples* using best practice collection methodologies, maintaining appropriate patient protections, and integrating relevant clinical data.
To provide support for customized tissue collection, consenting, and sample processing that meet the unique needs of the researcher.
*This resource has been approved by the VCU IRB and is housed in a CLIA '88 certified Molecular Diagnostics Laboratory in the VCU Department of Pathology and the Massey Cancer Center.


Overview of Services
Quality controlled human residual tumor and hematopoietic samples (with limited clinical/histopathological annotation; genomic annotation on selected samples)
Customized human tissue collection, handling, and informed consent services
Processing of tissue and hematopoietic samples for specialized studies
Studies utilizing TDAAC resources should reference the Tissue and Data Acquisition and Analysis Core (TDAAC) in their publication acknowledgment section. See TDAAC Publication Reference document.
TDAAC SERVICE REQUEST FORM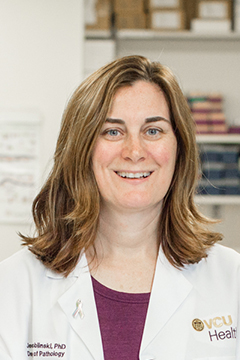 Jennifer Koblinski, PhD
TDAAC Co-Director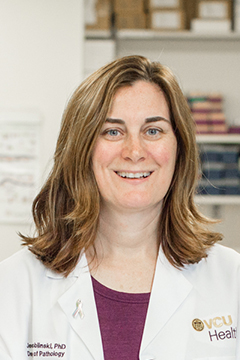 Jennifer Koblinski, PhD
TDAAC Co-Director
Pathology
Assistant Professor of Pathology;
Director of the Cancer Mouse Models Core
Phone: (804) 827-0738
Email: Jennifer.Koblinski@vcuhealth.org
Pamela Jill Grizzard
Research & Laboratory Manager
Pamela Jill Grizzard
Research & Laboratory Manager
Tissue & Data Acquisition & Analysis Core (TDAAC)
Phone: (804) 628-3615