Jennifer Koblinski, PhD
Co-director, Histology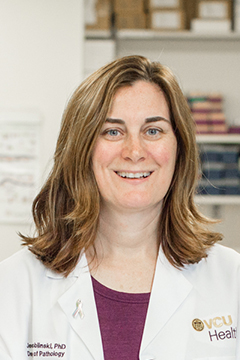 Associate Professor of Pathology; Director of the Cancer Mouse Models Core TDAAC Co-Director
Department: Pathology
Phone: (804) 827-0738
Email: Jennifer.Koblinski@vcuhealth.org
Jennifer Koblinski, PhD has been on faculty as Assistant Professor in the Department of Pathology since November 2013. She is also member of the Massey Cancer Center, Director of the Cancer Mouse Models Core, and an adjunct Assistant Professor in the Departments of Biochemistry and Human and Molecular Genetics. Dr. Koblinski received her PhD degree at Wayne State University, School of Medicine, Detroit, MI in the Cancer biology program working with Dr. Bonnie Sloane. She then did her post-doctoral fellowship in Dr. Hynda Kleinman's laboratory in the National Institute of Dental and Craniofacial Research, NIH, Bethesda, MD. After completing her post-doctoral training, she became a Research Assistant Professor and then an Assistant Professor in the Department of Pathology at Northwestern University, Feinberg School of Medicine and a member of the Women's research program, Robert H. Lurie Comprehensive Cancer Institute.
Dr. Koblinski's research program focuses on the mechanisms that facilitate breast cancer metastasis to the brain. As many as 20% of breast cancer patients have brain metastases, with women surviving only 2-16 months after diagnosis of this metastasis. Thus, resolving the mechanisms of metastasis to the brain is clinically important. Dr. Koblinski's lab focuses on the role of syndecans, transmembrane proteoglycans, in this process.
Dr. Koblinski has been funded by the National Cancer Institute and the American Cancer Society at both the local and national level. She is currently a member of the peer review committee for Cell Structure and Metastasis at the American Cancer Society. She has peer-reviewed publications for many different journals. She is a member of the American Association for Cancer Research and Women in Cancer Research as well as the Metastasis Research Society.
Research Interests: Xenograft In Vivo Work, Cell Biology, Bone and Brain Metastasis, Breast Cancer Growth
Dr. Koblinski Web CV (pdf)