Woon Chow, MD, PhD
Neuropathology & Pathology Information Systems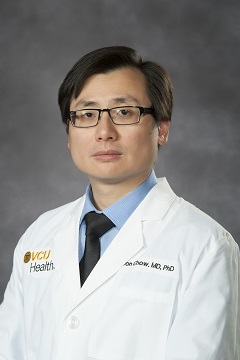 Assistant Professor of Pathology and Ophthalmology; Associate Director of Pathology Information Systems Physician Informaticist
Department: Pathology
Phone: (804) 828-7950
Fax: (804) 828-8733
Email: Woon.Chow@vcuhealth.org
Woon Chow, MD, PhD, is Assistant Professor of Pathology and Ophthalmology at Virginia Commonwealth University. He also serves as Associate Director of Pathology Information Systems in the department and a Physician Informaticist for the Health System.

A long-time local of the Richmond area, Dr. Chow pursued his undergraduate, graduate, medical, and graduate medical education at VCU and VCU Health System. He obtained his dual undergraduate degrees in biomedical engineering and physics in 2003 and completed the combined MD/PhD Program, earning his medical and graduate degrees in 2011. After completing his residency training in anatomic and clinical pathology in 2015, he pursued subspecialty training in neuropathology at Vanderbilt University Medical Center in Nashville, Tennessee.
In 2017, Dr. Chow returned and joined the faculty at VCU. In addition to his clinical and teaching responsibilities, he is actively pursuing expertise in clinical and visual informatics to support clinical and basic research endeavors.
Dr. Chow's Web CV (pdf)

Ophthalmic Pathology