Michael Idowu, MD, MPH
Director of Breast Pathology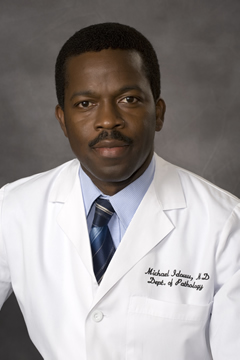 Program Director of Molecular Genetic Pathology Fellowship; Director of Breast Pathology; Co-Director of the Tissue and Data Acquisition and Analysis Core (TDAAC)
Department: Pathology
Phone: (804) 828-9739
Fax: (804) 828-9749
Email: Michael.Idowu@vcuhealth.org
Michael Idowu, MD, MPH, FCAP is a professor of pathology at the Virginia Commonwealth University. He is currently the Program Director for Molecular Genetic Pathology Fellowship Program. He is the Co-Director of Breast Pathology service and also serves as the Director of Tissue and Data Acquisition and Analysis Core (TDAAC).
Dr. Idowu received his MPH in public health at the University of South Carolina and his Medical Degree from the University of Ibadan. He trained in Anatomic and Clinical Pathology, Cytopathology, and Molecular Genetic Pathology at the Medical College of Virginia/Virginia Commonwealth University Medical Center. Dr. Idowu also trained in oncologic pathology at the Memorial Sloan Kettering Cancer Center, New York. He is involved in several intradepartmental and interdepartmental collaboration in translational research projects. He has authored several peer-reviewed publications and abstracts and has presented courses nationally. He has authored or co-authored several book chapters on quality practices, breast pathology and molecular pathology. He has edited two books: Molecular Pathology Testing for Solid Tumors published in the fall 2015, and Diagnosis and Management of Breast Tumors published in the fall of 2017.
He served on the Annual Meeting Abstract Review Board for the United States and Canadian Academy of Pathology (USCAP). He served on the editorial board of Cancer Cytopathology and other peer-reviewed journals.
He currently serves as a member of the Standards Committee and Economic Affairs Committee (EAC) of the College of American Pathologists (CAP). He also serves on the Pathology Coding Caucus and he is a Member of the American Medical Association CPT Editorial Panel. He previously served as a member of the Quality Practices Committee and Continuous Compliance Committee of the CAP.
Clinical Specialties: Breast Pathology; Gastrointestinal and Pancreatobiliary Pathology; Molecular Genetic Pathology
Dr. Michael Idowu's path to pathology
Dr. Idowu Web CV (pdf)