Charles Clevenger, MD, PhD
Cancer & Hormone Receptors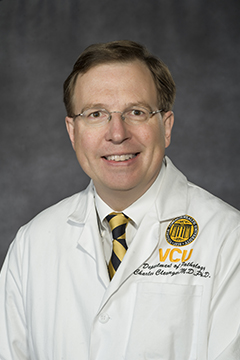 Department: Pathology
Email: Charles.Clevenger@vcuhealth.org
Carolyn Wingate Hyde Endowed Chair in Cancer Research


Charles V. Clevenger, MD, PhD was appointed the Chair of the Department of Pathology in 2013, having served previously as the Diana Princess of Wales Professor of Cancer Research and Leader of the Women's Cancer Research Program of the Robert H. Lurie Comprehensive Cancer Center of Northwestern University.
Dr. Clevenger received his MD and PhD degrees from Northwestern University and completed his residency training and cytopathology fellowship at the University of Pennsylvania. After completing his post-doctoral fellowship at Penn in the laboratory of Dr. Michael Prystowsky, Dr. Clevenger remained as faculty at the University of Pennsylvania until 2005 when he was recruited back to Northwestern.
Dr. Clevenger is an internationally recognized scholar for his research into the role that the neuroendocrine hormone prolactin plays during the pathogenesis of human breast cancer. His lab has made fundamental insights into novel mechanisms of prolactin receptor signal transduction, and has then translated these observations into innovative therapies targeting breast cancer.
As a principal investigator, Dr. Clevenger has been continuously funded by the National Institutes of Health for over 25 years; in addition he has received funding from the Department of Defense Breast Cancer Research Program, and the Susan G. Komen, Avon, and Lynn Sage Foundations. He has served and/or chaired numerous review panels for all of these funding agencies.
Dr. Clevenger's honors include Pfizer Outstanding Investigator Award from the American Society of Investigative Pathology and a Translational Breast Cancer Research Award from the American Association for Cancer Research/Breast Cancer Research Foundation. He is a member of numerous professional associations including the American Society for Clinical Investigation and the American Association of University Pathologists. He has served on several editorial boards and has over 90 peer-reviewed publications in journals such as Science, Proceedings of the National Academy of Science USA, Cancer Research, and the American Journal of Pathology.
Dr. Clevenger Web CV (pdf)