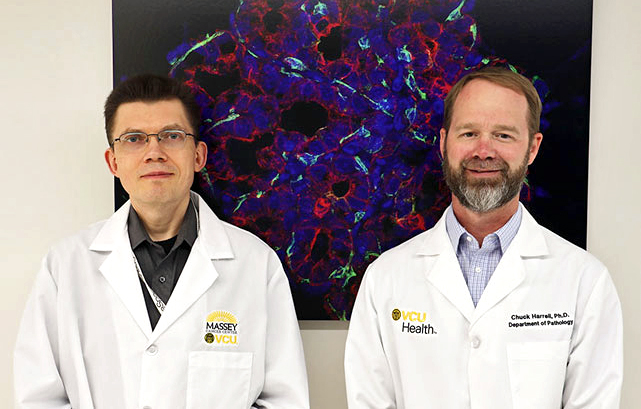 Investigators Mikhail Dozmorov, Ph.D., (left) and Chuck Harrell Ph.D.

Researchers from VCU Massey Cancer Center were recently awarded an R21 grant from the National Cancer Institute to learn how an aggressive form of breast cancer disproportionately impacts patients of African ancestry and identify more effective targeted treatment options for disease.
Triple-negative breast cancer is a more invasive form of disease that accounts for 10-15% of all breast cancers. It grows and spreads quickly, has few treatment options and is associated with worse patient outcomes. Additionally, it affects certain ethnicities more heavily than others.
"People of African ancestry are two-to-three times more likely to be diagnosed with aggressive triple-negative breast cancer — particularly a subset classified as basal-like — than people of European ancestry, which is a major disparity and contributes to a significantly poor prognosis," said Chuck Harrell, Ph.D., principal investigator on the grant and member of the Cancer Biology research program at Massey (pictured on the right).
Basal-like breast tumors typically spread rapidly to the brain, lungs and liver, and they often develop resistance to standard-of-care chemotherapeutics.
Given the higher genetic susceptibility to the most aggressive form of triple-negative breast cancer, this grant funding will support the development of models of advanced breast cancer in an attempt to identify effective treatment options for disease in patients of African descent.
Through this two-year grant of more than $399,000 in total funding, the research team will use breast cancer cells derived from patients of African ancestry to create trackable models of tumor growth in mice. They will observe and define patterns by which cancer cells spread from one organ to another, as well as characterize the genetic blueprint of the tumors at a single-cell level. Finally, the research team will test novel drugs in combination with the standard-of-care chemotherapies to determine if there is any enhanced clinical benefit for triple-negative breast cancer in this population.
"The study is innovative through its multifaceted approach and significant as it will directly address a substantial health disparity and provide options for expanded testing of therapeutics that could be utilized in the clinic immediately," said Harrell, who is also an associate professor in the Department of Pathology at the VCU School of Medicine.
Mikhail Dozmorov, Ph.D., member of the Cancer Biology research program at Massey and associate professor in the Department of Biostatistics at the VCU School of Medicine, is a co-investigator on this research project.
"I am looking forward to working on this study as the pharmacogenomic and single-cell transcriptomics data generated will be the first-of-its-kind and a unique resource for understanding the molecular mechanisms of differential therapeutic responses stratified by genetic ancestry," Dozmorov said. "This is an important step forward in precision medicine."
The researchers hope the findings from this research will be able to be shared with the broader research community in an effort to identify specific genomic factors that can be targeted in breast cancer metastasis.
Approximately one in eight women will get breast cancer during her life, and the NCI estimates that the disease will contribute to more than 43,000 deaths this year.