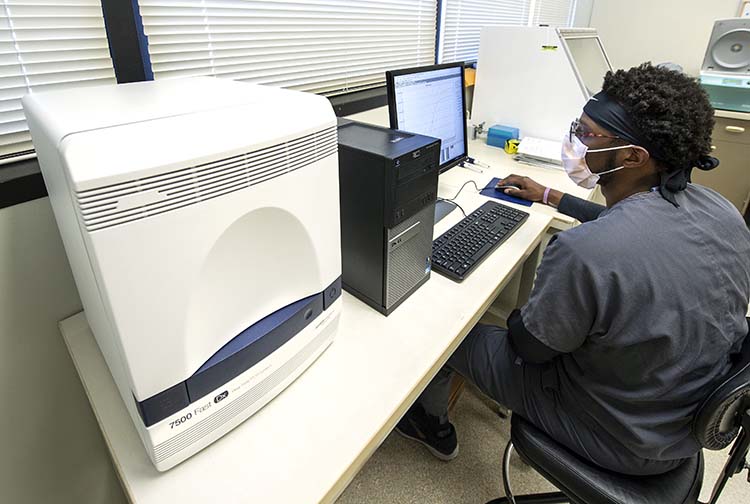 Conrad Lusagala, a medical technologist at VCU Medical Center, analyzes COVID-19 test results. (Photo: Kevin Morley, University Marketing)


As the highly infectious new COVID-19 variant spreads globally, labs across the United States have been working on ways to detect the new strain. Beginning January 6, VCU Medical Center joins theDivision of Consolidated Laboratory Services (DCLS) and the Central Virginia VA Health Care System as one of the first labs in Virginia equipped to specifically test for the U.K. variant. VCU Medical Center will work with DCLS to confirm results and will help the Virginia Department of Health understand how prevalent (common) the new strain is in our community.
Dr. Christopher Doern
Here Christopher Doern, Ph.D., director of microbiology at VCU Health, answers common questions about testing for the new variant. Dr. Doern oversees implementation of new technologies in the VCU Health clinical microbiology lab.
How is the lab at VCU Medical Center testing for this new strain of COVID-19?
We're using the same COVID-19 test we've been using throughout the pandemic. The test generates a unique pattern of results that may indicate a patient has the new U.K. strain of the virus.

We essentially run three tests within the COVID-19 test in order to detect three different genes of SARS-COV-2 – the virus that causes COVID-19. One of these genes shows us the "spike" protein in the virus. In the U.K. strain, this gene is mutated and creates a "signature" on our test results. Essentially, that signature tells us that a patient may have the new COVID-19 variant.
Will people learn which variant they have when they get their test results?
No. VCU Medical Center's test is suggestive but not definitive. However, we are working with DCLS – Virginia's state laboratory – to confirm all results.
What is the benefit of knowing which version of COVID-19 someone has?
At a high level, the more medical professionals know, the more they can help. If we can confirm how prevalent the various forms of COVID-19 are in our community, we can better understand how to treat and prevent the spread of the virus.
In South Africa, another new variant has emerged. Will our test determine which variant you have?
Our test will not show any unique results, or "signatures," if we encounter the variant coming from South Africa. Therefore, we will not be able to determine if the South African variant is present at this time.
What else should people know about these new variants?
Information about these variants is rapidly emerging. However, we do know viruses constantly change and mutate throughout time and new variants of a virus are not uncommon. According to the CDC, scientists around the world are working to learn more about how easily the different versions of the virus spread, whether they could cause more severe illness, and whether vaccines will protect people against them. At this time, there is no evidence that the known variants cause more severe illness or increased risk of death.