Youngman Oh, PhD
Cancer & Metabolism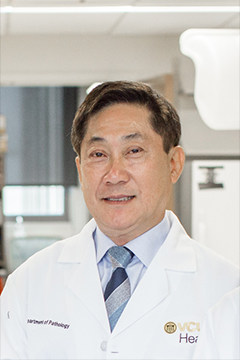 Professor of Pathology; Director of Cancer and Metabolic Disorder Lab
Department: Pathology
Phone: (804) 827-1324
Fax: (804) 828-9746
Email: Youngman.Oh@vcuhealth.org
Youngman Oh, MS, Ph.D., joined Virginia Commonwealth University (VCU) in June of 2003 as Professor of Pathology in the Division of Cellular and Molecular Pathogenesis. Within his first year as faculty, he was appointed Affiliate Faculty of the Department of Biochemistry and Molecular Biology as well as a Member Scientist of Massey Cancer Center. He has been further serving as a Member of Virginia Bio-Technology Research Park's Leadership Council, VCU, and leads Oh Lab Research in the Department of Pathology.

Dr. Oh graduated summa cum laude with a BA in Biology from Korea University in Seoul Korea and received a MS in Biology from the Eastern Michigan University. He earned a Ph.D. in Cancer Biology from Stanford University. He received his Post-doctoral fellowship training under the mentorship of Dr. Ron Rosenfeld at Oregon Health and Science University (OHSU) in Portland, Oregon. He subsequently held faculty positions in the Department of Pediatrics and the Department of Cell and Developmental Biology at OHSU prior to joining the Department of Pathology at VCU.

Dr. Oh has established his scientific career at VCU with the development of a strong translational research program on endocrine-related cancers and metabolic diseases in the Division of Cellular and Molecular Pathogenesis, Department of Pathology. He is a nationally and internationally recognized scholar in the insulin-like growth factor (IGF) field and has pursued unique lines of research that has pioneered the new concepts of an IGF binding protein (IGFBP) superfamily and of the impact of the IGF-IGFBP system on pathogenesis and pathophysiology of human cancer and metabolic diseases by introducing an authentic biological function of IGFBPs and identifying new antitumor and anti-inflammatory signaling pathways.

Dr. Oh's research activities have produced fruitful outcomes: (1) over $5 million in external funding in the form of 13 major grants from federal and private sources. (2) over 110 articles appearing in peer-reviewed journals, (2) 15 patents for the treatment of cancer and metabolic disorders, (3) contribution to 8 book chapters, and (4) over 90 invitations as a guest speaker at domestic and international scientific meetings. He served as External Referee Committee Member for Scottish Government Experimental and Translational Medicine Research Committee, UK and Auckland Medical Research Foundation, New Zealand. He is currently Editorial Board Member of American Journal of Physiology-Endocrinology and Metabolism, Annals of Pediatric Endocrinology and Metabolism, and Endocrinology and Metabolism.

Research Specialties: Tumor Suppressor, Cancer metabolism, Drug Resistance, IGF system, Development of therapeutic biologics for cancer
Dr. Oh's Web CV (pdf)