Rajeswari Jayakumar, MD
Hematopathology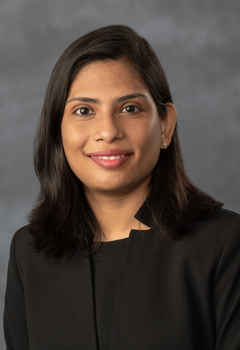 Assistant Professor of Hematopathology
Department: Pathology
Phone: 804-628-1347
Fax: 804-828-2812
Email: Rajeswari.Jayakumar@vcuhealth.org
Rajeswari Jayakumar, MD is currently an Assistant professor of Hematopathology at Virginia Commonwealth University.
Dr. Jayakumar graduated from Chengalpattu Medical College and completed a specialty training in laboratory Medicine (MD) at All India Institute of Medical Sciences in India. She practiced in India until she moved to United States to pursue Residency in Anatomic and Clinical Pathology. She completed her residency from SUNY Downstate Medical Center in Brooklyn, New York. During her residency, she also served as Chief Resident for a year. She then received fellowship training in Hematopathology from the Johns Hopkins University School of Medicine.
Her clinical and research interests are benign and malignant Hematopathology with a special interest in Flow cytometry. She has authored two text books on flow cytometry. She loves teaching and working with medical students, residents and fellows.
Dr. Jayakumar Web CV (pdf)