Marie Do, MD
Transfusion Medicine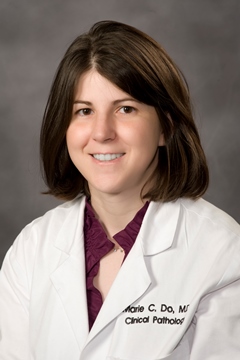 Clinical Assistant Professor
Department: Pathology
Phone: (804) 828-0093
Fax: (804) 828-0876
Email: Marie.Do@vcuhealth.org
Marie Christine Do, MD is an attending physician in the Department of Clinical Pathology since 2007. She earned her undergraduate degree from the University of Virginia in 2000, and her M.D. from the VCU School of Medicine in 2004. She was inducted into Phi Beta Kappa honor society as an undergraduate and Alpha Omega Alpha medical honor society as a medical student. She completed her training in Clinical Pathology at VCU in 2007. During her residency training she was awarded the Charles W. Moncure Award for Clinical and Teaching Excellence in Autopsy, the Clinical Pathology Service Award, and the Lyman Resident Research Award. Since finishing residency, she served as an attending for the Transfusion Medicine and Apheresis service and taught medical students, residents and other medical professionals about various topics related to pathology.
She is currently pursuing a Master in Medical Sciences in Medical Education at Harvard Medical School.
Her current interests include Medical education, Transfusion Medicine, and Apheresis.
Clinical Specialties/Research Interests: Medical Education, Clinical Pathology, Transfusion Medicine, Apheresis
Dr. Do Web CV (pdf)