Jennifer Koblinski, PhD
Metastasis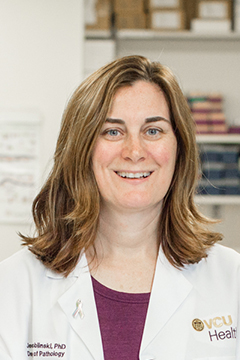 Associate Professor of Pathology; Director of the Cancer Mouse Models Core
Department: Pathology
Phone: (804) 827-0738
Email: Jennifer.Koblinski@vcuhealth.org
Jennifer Koblinski, PhD is on faculty as Associate Professor (tenured) in the Department of Pathology. She is also member of the Massey Cancer Center, Director of the Cancer Mouse Models Core, and an adjunct Associate Professor in the Departments of Biochemistry and Human and Molecular Genetics.
Dr. Koblinski received her PhD degree at Wayne State University, School of Medicine, Detroit, MI in the Cancer biology program working with Dr. Bonnie Sloane. She then did her post-doctoral fellowship in Dr. Hynda Kleinman's laboratory in the National Institute of Dental and Craniofacial Research, NIH, Bethesda, MD. After completing her post-doctoral training, she became a Research Assistant Professor and then an Assistant Professor in the Department of Pathology at Northwestern University, Feinberg School of Medicine and a member of the Women's research program, Robert H. Lurie Comprehensive Cancer Institute.
Dr. Koblinski's research program focuses on a team approach. Her research has focused on breast cancer and metastasis to the brain. One area of collaboration is with Dr. Nicolas Farrell, Department of Chemistry, VCU College of Humanities and Sciences. Patients with high levels of proteoglycans as well as xylosyltransferases, which lead to high levels of cell surface sulfated glycosaminoglycans, have a worse prognosis in triple negative breast cancer and ovarian cancer. We have confirmed that the unique polynuclear platinum complexes (PPCs) from Dr. Farrell's laboratory bind to sulfated glycosaminoglycan and are very effective at treating triple negative breast cancer as well as ovarian cancer. These properties would confer a unique advantage to the PPCs over cisplatin and carboplatin. My laboratory adds to the biophysical studies with expertise in cancer models of growth and metastasis as well as experience studying proteoglycans in cancer. Other collaborative projects are with Dr. Tony Faber, Oral and Craniofacial Molecular Biology, VCU School of Dentistry. Dr. Faber's lab is centered on improving targeted therapies through combination strategies and developing targeted therapies in cancer subtypes that have no precision therapy options. Dr. Koblinski's group has added to his studies providing quantitative immunohistochemistry and animal expertise including established a neuroblastoma orthotopic model and providing assistance with breast cancer models.
Dr. Koblinski has been funded by the National Cancer Institute and the American Cancer Society at both the local and national level. She has been a member of the peer review committee for Cell Structure and Metastasis at the American Cancer Society. She has peer-reviewed publications for many different journals. She is a member of the American Association for Cancer Research and Women in Cancer Research as well as the Metastasis Research Society and the Association of Biomolecular Resource Facilities.
Research Interests: Xenograft In Vivo Work, Cell Biology, Bone and Brain Metastasis, Breast Cancer Growth
Dr. Koblinski Web CV (pdf)