Adele Odine Kraft, MD
Cytopathology & Anatomic Pathology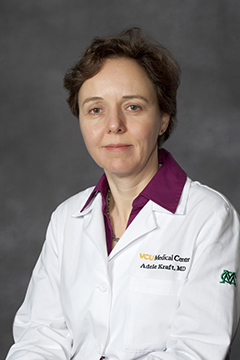 Associate Professor of Pathology
Department: Pathology
Email: Adele.Kraft@vcuhealth.org
Lab: (804) 828-6957
Adele Odine Kraft is an anatomic and cytopathologist and the Program Director for the Cytopathology Fellowship in the Department of Pathology at the Virginia Commonwealth University in Richmond, Virginia.
Dr. Kraft received her medical training at the Universidade Federal de Minas Gerais in Belo Horizonte, Brazil followed by post-graduate fellowship in Experimental Pathology under Dr. Peter Jensen at Emory University, Atlanta, GA., and anatomic pathology residency training at the State University of New York Health Science Center in Syracuse, NY., where she received extensive training in Cytopathology and FNA under the mentorship of Dr. Celeste Powers. She then returned to Brazil where she founded and directed a successful private anatomic pathology laboratory performing and interpreting thousands of FNAs, becoming a regional reference in thyroid Cytopathology.
Since joining Virginia Commonwealth University in 2011 she has been an active member of the ultrasound-guided FNA pathology service. She has taught in USFNA-related workshops at USCAP, ASCP and ASC annual meetings. Her other clinical interests include head and neck surgical pathology with emphasis on thyroid and strategies to optimize utilization of cytological materials for molecular testing.