Paula Bos, PhD
Tumor Microenvironment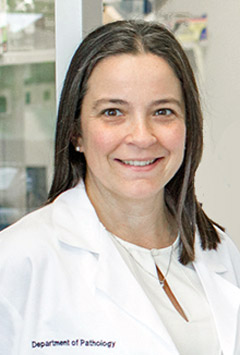 Assistant Professor of Pathology
Department: Pathology
Phone: (804) 828-7570
Email: Paula.Bos@vcuhealth.org
Paula D. Bos, PhD, joined the Department of Pathology as an Assistant Professor in October 2015. She is Member of the Massey Cancer Center, and faculty of the Graduate School.
Dr. Bos received a M.S. in Genetics from the National University of Misiones, Argentina, working on molecular epidemiology of human papillomaviruses in caucasian and guarani populations of the Atlantic rainforest. She received a M.S. and Ph.D. in Cancer Biology from the Weill Cornell Graduate School of Medical Sciences working under the supervision of Dr. Joan Massagué. During her graduate work she developed breast cancer models of brain metastasis, and characterized molecular mediators of metastasis to the lung and brain. She did her post-doctoral training in the Immunology Program at the Memorial Sloan Kettering Cancer Center, under the supervision of Dr. Sasha Rudensky. During her post-graduate studies, she investigated the role of regulatory T cells in the progression and metastatic dissemination of murine oncogene-driven breast cancer.
Dr. Bos' research group utilizes genetic models to characterize tumor microenvironment interactions that foster tumor progression and dissemination, with special emphasis in the crosstalk between immune and non-immune cells in brain metastasis.
She has received funding from the NIH, and the American Cancer Society, and served as the first Junior Investigator Chair of the Tumor Microenvironment Network of the National Cancer Institute. As an independent investigator at VCU, her lab received funding from the Massey Cancer Center, the METAvivor foundation, the American Brain Tumor Association, and an institutional research grant from the American Cancer Society. Currently, the lab is funded by the Susan G. Komen Foundation and the V Foundation for Cancer Research.
Research Interests: Tumor Microenvironment, Regulatory T cells, Breast Cancer Progression and Metastatic Dissemination.


Dr. Bos identifies an immune cell in breast cancer growth that could treat the disease
Dr. Bos joins international effort to streamline brain metastasis research

Dr. Bos' Web CV (pdf)

Search PubMed