Welcome from the Residency Director
Steven C. Smith, MD, PhD
In my role as Residency Director, I enjoy and feel compelled to pay forward the mentorship I received in my training and career. I find my areas of practice and scholarship in urologic and bone/soft tissue pathology to be compelling, and I am confident that across the broad spectrum of pathology there is an area of interest and fulfillment for you.
As an urban academic institution, the volume and variety of patients provide our trainees with a rich educational environment. In fact, VCU Health is favorably ranked among centers in Richmond and Virginia. We are home to the NIH-designated Massey Cancer Center and we continue to see spectacular growth across our clinical services.
The Department of Pathology at VCU offers a wide range of training opportunities. Our faculty are known nationally for their leadership and service in their subspecialty practice, teaching, and scholarship, and form the heart our longstanding, fully accredited training programs. Our curriculum is targeted to meet the evolving needs of future pathologists, at a time of unprecedented evolution in diagnostic practice. In addition to our core residency training program in anatomic and clinical pathology (AP/CP), the Department supports many subspecialty fellowships including Cytopathology, Hematopathology, Molecular Genetics, Neuropathology, and Surgical Pathology. The adjacent state central Office of the Chief Medical Examiner trains our residents in forensic pathology and serves as our primary site for our fellowship in Forensic Pathology. Electives are available both within the department and at the nearby Hunter Holmes McGuire VA Medical Center. Our department hosts a significant research division and projects are plentiful across our many laboratory sections.
Welcome from the Chief Residents
Joseph Gillam, MD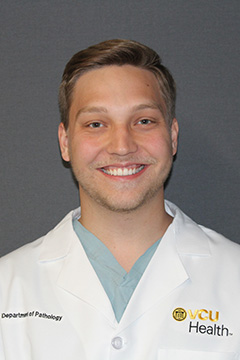 Jason Reardon, MD
We have a tremendous residency program, with awesome training in both AP and CP. We are a medium-sized program with generally four residents in each of the four post-graduate years.
Our trainees take an active role as consultants to our clinical colleagues, but there are many unique opportunities in the curriculum for direct patient care responsibilities. The superficial fine needle aspiration service is run by residents on the Cytopathology rotation. We personally evaluate and consent patients and perform the aspiration procedures. Our department also oversees one of the most comprehensive apheresis clinics in Virginia. Patients from near and far present to our clinic for their treatment. As residents rotating on Transfusion Medicine, we actively evaluate and educate patients. Working with our Transfusion Medicine faculty, we manage patients needing apheresis services routinely and emergently.
None of our CP rotations involves solely passive learning. Our residents work with our medical technologists at the bench side-by-side, learning from them as they learn from us. We are frequently consulted by our clinical colleagues to assist with interpreting complicated test results and to decide which laboratory studies to pursue for patients suspected of having an exotic disease. We are active participants in meetings where we learn about quality control, quality assurance, and laboratory management.
In addition to the volume and diversity of surgical materials, our AP training offers a unique opportunity to trainees to render intraoperative (frozen section) diagnoses on their own, with fellow and faculty supervision as needed. This opportunity allows residents to build confidence in their diagnostic abilities.
In short, training at VCU prepares trainees to be future laboratory directors and leaders in pathology.
Residency and Fellowship Training Programs
The Department of Pathology offers ACGME-accredited residency training in anatomic (AP), clinical (CP), or combined anatomic and clinical pathology (AP/CP). In addition, fellowship training is offered in cytopathology, hematopathology, molecular genetics, neuropathology, and surgical pathology. Fellowship training in forensic pathology is offered at the nearby Office of the Chief Medical Examiner.
The AP/CP program provides residents with the training needed to prepare for a career in academic or private practice. The program emphasizes the role of the pathologist as clinical consultant as well as diagnostician, educator, and manager.
One-on-one training experience during laboratory rotations is supplemented by a full schedule of didactic conferences, seminars, and journal clubs. Residents are actively involved in teaching medical students and technologists. Research opportunities are readily available and the department provides generous financial support for residents presenting research projects at national meetings.