Welcome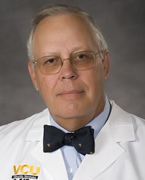 Welcome to the Department of Pathology at Virginia Commonwealth University (VCU), Richmond, VA. Virginia Commonwealth University Health System (VCUHS) is an academic, tertiary care hospital located in the heart of a major US city that serves as the Capitol of the Commonwealth of Virginia. As an urban center, the volume and variety of patients provides trainees with a rich educational environment. Notably, VCU Medical Center has been ranked #1 in Virginia and #1 in the Richmond, VA Metro area (2013, U.S. News and World Report). The Department of Pathology at VCU offers a wide range of training opportunities, some of which are only available at a few institutions in the country. Our faculty, many of whom are internationally renowned, are part of a longstanding fully accredited resident training program that is dedicated to the mission of educating future Pathologists. In addition to our Core Pathology Residency Training Program in Anatomic and Clinical Pathology, the Department supports a variety of sub-specialty fellowships including Neuropathology, Cytopathology, Surgical Pathology, Hematopathology, and Molecular Genetic Pathology. The nearby Office of the Chief Medical Examiner of VA supports our Core Program in terms resident training in forensic pathology, and offers its own Forensic Pathology Fellowship. Residents also spend time at the nearby Hunter Holmes McGuire VA Medical Center for additional training in Hematopathology. Optional month long extramural elective rotations are available. Research opportunities are also plentiful throughout our Clinical, Anatomic, and Molecular Pathology Divisions, and trainees may elect to pursue significant projects with their faculty mentors.
VCUHS offers a wide array of wonderful employee benefits such as on-site childcare and affordable gym memberships. Working Mother Magazine has recognized VCUHS as one of the country's "100 Best Companies" for working mothers. As a trainee at our institution you have access to the VCUHS Child Care Center, which is accredited by the National Association for the Education of Young Children (NAEYC), as well as the Adult Care Center, which provides services for adult dependents. VCU Recreational Sports will help you and your family stay healthy and active through intramural sports, fitness programs, outdoor adventure trips and special sporting events. The Cary Street Gym and the MCV Recreation and Aquatic Center are newly renovated and are conveniently located within walking distance or a short bus ride. For more information about these facilities and Recreational Sports please visit http://www.recsports.vcu.edu/index.html.
You will find Richmond is distinctive among major U.S. cities in not only its cultural diversity, but also in the multiplicity of activities; there's something for everyone! Virginia Beach, Washington D.C, and the foothills of the Blue Ridge Mountains with the nearby Shenandoah Valley are just a short two hour drive away, offering several exciting day trips. There are many more amazing things we could tell you about our city, but instead, we invite you to read about Richmond by visiting http://www.visitrichmondva.com.
If you have questions about our Pathology Residency or Fellowship training programs, please contact Pamela Adams-Lewis, MBA, HSA, EdD, Senior Residency Program Coordinator at (804) 827-0561 or PathGME@vcuhealth.org
Sincerely,
Residency Program Director