Colleen Jackson-Cook, PhD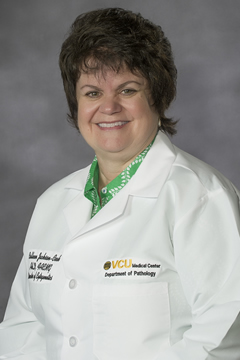 Molecular Cytogenetics
Professor of Pathology
Director of the Cytogenetic Diagnostics Laboratory
Colleen.Jackson-Cook@vcuhealth.org
Office: (804) 628-2992
Fax: (804) 828-4242
Colleen Jackson-Cook, PhD, FACMG, is a Professor of Pathology, Human & Molecular Genetics, and Obstetrics & Gynecology and serves as the Director of the Molecular Cytogenetic Diagnostic Testing Laboratory in the Division of Molecular Diagnostics. She is board certified as a Clinical Cytogeneticist, as well as a PhD Medical Geneticist, by the American Board of Medical Genetics. She is also a founding fellow of the American College of Medical Genetics.
Dr. Jackson-Cook received her PhD degree in Human Genetics (with a subspecialty in Cytogenetics) from Virginia Commonwealth University and a master's degree in Biology from West Virginia University. After completing her Postdoctoral Fellowship in Diagnostic Cytogenetics (under the tutelage of Judith A. Brown, PhD), Dr. Jackson-Cook remained as a faculty member and Associate Director of Cytogenetics at VCU. In 1990 she was recruited to serve as the Director of Cytogenetics at VCU.
Dr. Jackson-Cook is internationally recognized for her work with mosaic Down syndrome and clinical cytogenetics. Additional areas for which she has expertise include acquired chromosomal abnormalities, epigenetics, telomeres, micronuclei, copy number microarrays, and non-mosaic Down syndrome. Her research team has recognized karyotype-phenotype correlations associated with mosaic Down syndrome. Her team has also identified acquired genetic and epigenetic changes associated with aging, stress following childhood adversity, treatments for breast cancer, and fibromyalgia. As a principal investigator, she has received research funding from the National Institutes of Health (NIH) or other sources (Commonwealth Health Research Board, R. Clifton Brooks, Jr. Medical Research Fellowship, and the Jeffress Memorial Trust). She has numerous publications in peer-reviewed journals and books/chapters. She has also published 5 educational documents, as well as a documentary film about Down syndrome (led by Sasha Waters-Freyer), that are directed at patients and their family members, as well as health and educational professionals. She has been invited to give numerous extramural presentations at local, regional, and international meetings including (but not limited to) the International Mosaic Down Syndrome Association Conference, the American Cytogenetic Conference, and the American Society of Human Genetics.
Dr. Jackson-Cook is a member of several scientific, honorary and professional societies including the NIH/NICHD-Sponsored Down Syndrome Consortium, the International Cytogenetics and Genome Society, the American College of Medical Genetics, and the American Cytogenetics Conference, to name a few. She also serves as the scientific advisor for the International Mosaic Down Syndrome Society. She has served as a grant reviewer for several agencies (including the NIH) and also serves as a manuscript reviewer for numerous journals/societies.

Additionally, Dr. Jackson-Cook enjoys teaching. She is a Co-Director and lecturer for the Genetic Diagnostic Testing course in the Department of Pathology. She also provides lectures for the medical and dental student genetic courses, Introduction to Human Genetics, Classic Papers in Human Genetics, and Medical Genetics. In addition to didactic teaching, she has served as the primary/secondary mentor for 83 undergraduate, graduate, postdoctoral and junior faculty trainees. She has received multiple awards in teaching, including the Excellence in Teaching MI Students (High Evaluations) award and the Outstanding Teacher Award for the Department of Human & Molecular Genetics.
In addition to teaching awards, Dr. Jackson-Cook has received the Virginia Commonwealth University Alumni Star Award for Humanitarian Activities, the University Of Charleston Founding Fellow Gallery Of Outstanding Alumni Achievement Award, the American Society of Human Genetics Predoctoral Research Award, and the Roscoe D. Hughes Award for Excellence in Human Genetics.
Research Interests: Down Syndrome & Mosaic Down Syndrome; Chromosomal Changes in Aging
Click here for Dr. Jackson-Cook's Web CV (pdf)