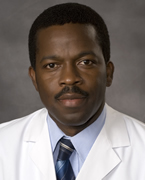 Tell us about your education and training and how it led you to the field of Pathology?
I attended medical school at the College of Medicine, University of Ibadan, Nigeria. Along the way, the influence of two faculty members at the University of Ibadan solidified my interests in Pathology, mostly because of their enthusiasm and knowledge in the field. I was told that pathology is the "bridge" joining research and clinical medicine and I wanted to be part of that bridge. Following medical school, I did two rotational internships (University College Hospital, Ibadan Nigeria and General Hospital, St. Georges, Grenada) and was subsequently a Clinical Tutor at the St. Georges University School of Medicine. I obtained my Masters in Public Health (MPH) at the University of South Carolina. I began my Pathology residency at VCU in 2000, followed by Fellowships both at VCU and Memorial Sloan Kettering Cancer Center in New York.
Why did you choose academics over private practice?
The decision to choose Academic pathology stemmed from the desire to get involved in research activities. Academic practice gives the opportunity for interaction with basic science investigators and fosters a collaborative environment for translational research. Academic pathology also gives opportunities for teaching residents and medical students.
Describe your service activities and goals as the new Division Chair?
My service activities include gastrointestinal and breast pathology sign-out, and molecular pathology solid tumor sign-out. I also have committee responsibilities in the hospital and Massey Cancer Center.
My goal is to help junior faculty maximize their potential, and also to foster interactions between Anatomic Pathology and the Massey Cancer Center on the one hand, and intradepartmental collaboration on the other hand.
How are you engaged as a teacher and a mentor? What are your preferred venues/settings for teaching?
I have mentored several residents, students and junior faculty in research projects. I have also assisted some residents to serve on national committees. I have periodic meetings with trainees and faculty to assist in setting reachable goals. Teaching is an integral part of the academic practice. While I participate in giving formal lectures, my preference is teaching settings that leave room for discussion, gentle probing and open-ended questions revolving around knowledge of the subject and, more importantly, with focus on the clinical implications that impact patient care. My goal in teaching is to emphasize that pathologists are actively involved in patient care and that we must be intimately familiar with the clinical implications of our diagnosis.
Can you recall any particularly inspiring mentor that led you to where you are today? What about them inspired you and how do you emulate them as a mentor to others?
I have had several mentors along the way in the department, the institution and nationally. The list of my mentors is long and includes Dr. Bola Osifo (Nigeria), Dr. Margaret Grimes (late), Dr. Celeste N. Powers and Dr. David S. Wilkinson (this is not all-inclusive). It is difficult to pick one most inspiring mentors as they all significantly helped in different ways. However, if I must pick one particularly most inspiring mentor, that would be Dr. David S. Wilkinson. My first national committee appointment was through Dr. Wilkinson's sponsorship. His mentorship and sponsorship both locally and nationally have given me an increased sense of confidence. Dr. Wilkinson is a nationally well-respected mentor, as he has mentored numerous individuals nationally – he is the consummate mentor. One of the things I find most impressive about Dr. Wilkinson's mentorship and sponsorship is that all he asks is that you do a good job and not for the sake of personal recognition. I am striving to emulate Dr. Wilkinson by looking for potential in others, regardless of who they are, and to help sponsor them to the best of my ability.
What are some of the more pressing topics in Pathology that interest you? What are your scholarly goals in this regard?
These topics have evolved over time. Currently, there are two main topics that interest me. The first is digital pathology and augmented/artificial intelligence (AI). The goal is first to acquire digital pathology platforms, incorporate AI to assist in some aspects of pathology interpretation, and subsequently to formulate research questions based on these technologies. The second main topic is the recent focus on health disparity and hence research questions on health disparity.
How do you stay abreast of current issues in Pathology? How do you ensure you are knowledgeable and engaged on the forefront of current issues and cutting edge practice?
It is difficult to stay abreast these days given the rate at which new findings are coming out. This is especially true if an academic pathologist has too many services to sign-out. One of the ways I find useful to keep abreast of current issues in pathology is by limiting clinical expertise to one or at most two services. Participation in national committees, collaboration with basic science investigators and participation in translation research are also important to keep abreast of current issues. Finally, fostering transparent communication among faculty is also a great way to keep abreast.
Why did you choose VCUHS? What do you like about Richmond?
The story may sound unbelievable, but it is a true story. While I was driving down I-95 in 1998, I saw the Medical College of Virginia Hospital (as it was known then) and the gold and black MCV logo. For some inexplicable reasons, I told myself, that is where I would like to go for pathology training. Then I started to research the institution and contacted Dr. Margaret Grimes (the Pathology Residency Program Director at that time) for information on the program. I applied to the program for two consecutive years before I was finally accepted as a pathology resident. I have now lived in Richmond for almost 20 years, and I must say that this is one of the most welcoming cities; its location is great and it seems to have something for everyone.
Tell us about your personal interests. Are there any parallels in your leisurely interests and Pathology? What do they say about you?
Participation in community public service and poetry. Lately poetry has taken a backseat to spending time with family.

Where do you see yourself in 10 years in terms of personal and professional growth and practice?
My vision for the next 5 - 10 years is to have an environment of trust, faculty independence and inter-dependence, so that we can all look back and see how well we worked as a team, and how much we have all helped one another to grow and reach greater professional and personal heights.
Michael Idowu: "The same quiet, humble man"
By David S. Wilkinson, MD, PhD, Professor Emeritus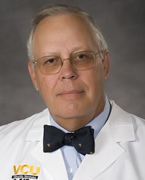 I first met Michael when he interviewed for a pathology residency position at VCU. Michael had a very interesting background. He had grown up in Nigeria, where he attended medical school. He spent some time in Grenada as a tutor at St. George's University School of Medicine. He then moved on to the University of South Carolina, where he obtained a Master's Degree in Public Health. He clearly had ambition and a great work ethic. We were very pleased when he matched with us.
Michael was a great resident. He was hard working and a great team player. When he completed his residency, he stayed on for the Cytopathology Fellowship. He then took a fellowship in surgical pathology at the Memorial Sloan Kettering-a very prestigious fellowship. Upon completion of his fellowship, we had an opening in surgical pathology and I encouraged him to apply. So, he rejoined us as a junior faculty member in the Division of Anatomic Pathology. When Dr. Carl Garrett retired, I needed a pathologist certified in Molecular Genetic Pathology to fill the position of Director of our Molecular Genetic Pathology Fellowship. We arranged for Michael to complete the fellowship while simultaneously fulfilling his faculty responsibilities over a two-year period. He successfully passed the board exam, and became our MGP Director, a position he still holds. Michael co-authored with Dr. Garrett a book on the use of molecular diagnostics in surgical pathology. He has quickly progressed through the academic ranks to the rank of full professor.
Michael was very productive in his scholarship, and became active in the CAP as a member of the Quality Practices Committee (which I had chaired for many years). Among other things, this work resulted in a number of peer-reviewed papers and book chapters. More recently, Michael has become an active member of the Pathology Coding Caucus, another organization that I chaired for many years. When I stepped down as the USCAP-appointed CPT Advisor, I recommended that Michael fill that position. Michael has also become a valued member of the CAP Economic Affairs Committee. In these various professional roles, Michael is now recognized as an expert in CPT coding and work RVU valuation.
Throughout his tenure at VCU, he has remained the same quiet, humble man we first met during his interview for a residency position. VCU and the Department of Pathology have benefited greatly from his presence and many contributions.