Raghavendra Pillappa, MD
Surgical Pathology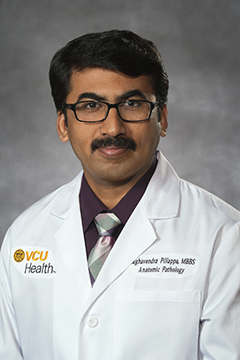 Assistant Professor of Pathology
Department: Pathology
Phone: (804) 628-1293
Email: Raghavendra.Pillappa@vcuhealth.org
Dr. Pillappa earned his Bachelor of Medicine, Bachelor of Surgery (M.B.B.S ) from Sri Devaraj Urs Medical College, India in 2001. Followed by a post graduate degree in Pathology, Doctor of Medicine (M.D.) from Karnataka Institute of Medical Sciences, India in 2007 during which he secured the prestigious Rajiv Gandhi University of Health Sciences "Gold Medal" for scoring highest marks in the University Pathology Examination. After his education, he worked as Assistant Professor in Pathology at Sri MVJ Medical College and Research Hospital, India (2008), following which he moved to International American University, Saint Lucia (2008-12).
After completing his AP/CP residency at University of Tennessee Health Science Center in 2016, Dr. Pillappa went to Mayo Clinic in Rochester, MN for two fellowships; General Surgical Pathology (2017) and Pulmonary Pathology (2018) with a special interest in Breast Pathology. Additionally, he has a special interest in interstitial lung diseases reading a large number of surgical lung biopsies at Mayo Clinic during his fellowship training. As a full time Assistant Professor at VCUHS, he will use his expertise in surgical/pulmonary pathology to serve a large and diverse patient population.
Dr. Pillappa's research interests include neoplastic and non-neoplastic diseases of the lung including application of immunohistochemistry and molecular pathology to describe the basis of these diseases.
Clinical Specialties: Pulmonary, Thoracic, Breast and Surgical Pathology
Dr. Pillappa Web CV (pdf)