Scott Turner, PhD
Molecular Diagnostics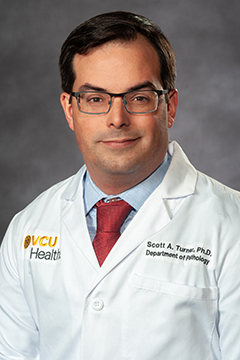 Assistant Professor of Pathology; Assistant Director of Molecular Diagnostics
Department: Pathology
Phone: (804) 828-3692
Fax: (804) 827-4738
Email: Scott.Turner@vcuhealth.org
Scott Turner, PhD, joined the VCU Department of Pathology in August 2018, serving as the Assistant Director of Molecular Diagnostics. Dr. Turner received his PhD in Genetics from the Geisel School of Medicine at Dartmouth College, followed by a post-doctoral fellowship in Molecular Pathology at Dartmouth-Hitchcock Medical Center, and an American Board of Medical Genetics and Genomics (ABMGG) fellowship in Clinical Molecular Genetics at Vanderbilt University. Dr. Turner is an ABMGG board-eligible Clinical Molecular Geneticist.
Dr. Turner is an active member of the Association of Molecular Pathology (AMP) and the American College of Medical Genetics (ACMG). He serves on the Variant Interpretation Testing Across Laboratories (VITAL) working group designated to improve inter-laboratory reporting of somatic variants in solid and hematologic malignancies.
Dr. Turner's primary research interests include incorporation of next generation sequencing technologies into the clinical laboratory through assay development and validation for both germline and somatic variant detection. In addition, Dr. Turner's work in the area of genetic variant reclassification has elucidated the clinical impact of changing laboratory classifications on patients with hereditary cancer syndromes. He continues to be interested in exploring the mechanisms by which these reclassifications occur to improve upon current laboratory/community variant management and ultimately patient care.
Clinical Specialties: Molecular Diagnostics, Clinical Molecular Genetics
Click here for Dr. Turner's Web CV (pdf)