Azeddine Atfi, PhD
Cellular & Molecular Pathogenesis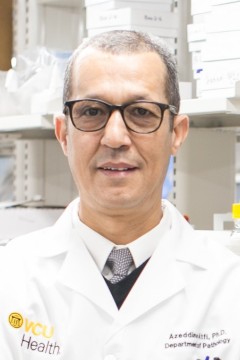 Professor of Pathology; Chair of the Division of Cellular & Molecular Pathogenesis
Department: Pathology
Phone: (804) 828-9526
Email: Azeddine.Atfi@vcuhealth.org
Azeddine Atfi, PhD joined the Department of Pathology as Professor and Chair of the Division of Cellular and Molecular Pathogenesis since July 1, 2018. Before assuming this leadership role, Dr. Atfi served as Professor and Director of the Tumor Cell Biology Program at the Cancer Institute in the University of Mississippi Medical Center between 2011 and 2018. During this period of 7 years, Dr. Atfi received the "Gold Award" from the University of Mississippi Medical Center, attesting to its outstanding leadership capabilities.
Dr. Atfi received his PhD degree in 1992 from the University of Rennes in France. After completing his post-doctoral fellowship at McGill University in Montreal, Dr. Atfi was recruited as a permanent faculty member in the National Center for Scientific Research (CNRS, France) in 1998 and promoted in 2002 as Director of the Cell Signaling and Carcinogenesis Program at the French Institute of Health INSERM in Paris. In 2008, Dr. Atfi joined Harvard Medical School, where he served as visiting scholar for three years.
Throughout his entire career, Dr. Atfi explores the role of transforming growth factor (TGF-beta) signaling in cancer pathogenesis and progression. He made key discoveries and breakthroughs and has been the prime mover in the TGF-beta field. His scientific insight and scope are evident in papers that he consistently published in first-rated journals, including Cancer Cell, Molecular Cell, Developmental Cell, Nature Cell Biology, EMBO, Proceedings of the National Academy of Science USA, and Science Signaling. In addition, Dr. Atfi has been invited numerous times to present his research at leading universities and at major national and international conferences. Consistent with the quality of his work, Dr. Atfi's research program has been continuously funded by the National Institute of Health. In the area of service, Dr. Atfi has been a recurrent reviewer for a long list of prestigious journals (e.g., Science, Nature Cell Biology, Molecular Cell, etc.) and is currently serving on a number of grant review panels, including the National Cancer Institute. The intensity of his participation reflects his strong desire to share his knowledge of science with the ultimate goal to progress our understanding of the general mechanisms underlying the pathogenesis of human cancers.
Click here for Dr. Atfi's Web CV (pdf)
Search PubMed