Alphonse E. Sirica, Ph.D., M.S., AGAF, FAASLD
Cellular & Molecular Pathogenesis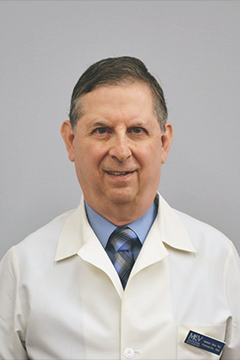 Professor Emeritus of Pathology and Distinguished Career Professor
Department: Pathology
Email: Alphonse.Sirica@vcuhealth.org | asirica@vcu.org
Alphonse E. Sirica, PhD, MS received his PhD degree in Biomedical Science from the University of Connecticut Health Center and his MS degree in Cell Biology from Fordham University. After completing his Postdoctoral training in experimental oncology (liver carcinogenesis) with Dr. Henry C. Pitot at the McArdle Laboratory for Cancer Research at the University of Wisconsin-Madison, he remained as faculty at the University of Wisconsin School of Medicine from 1979 to 1984. In June 1984, he joined the VCU Department of Pathology faculty to develop a program in Experimental Pathology and in 1990 was promoted to the rank of full professor with tenure. From 1993 to 1999, he held the appointment of Chair of the Division of Experimental Pathology in the Department of Pathology. In 1999, he founded the Department's Division of Cellular and Molecular Pathogenesis and continued to serve as Division Chair for another 15 years, stepping down from this position in July 2014 to devote full time to his NIH funded research program. He was also co-appointed in 2001-2020 as Professor of Internal Medicine at VCU and from 1989-2020 had been a Member of the Massey Cancer Center of Virginia Commonwealth University. In 2019, he was appointed to a Distinguished Career Professorship at Virginia Commonwealth University. Following his retirement from the tenured faculty of the VCU Department of Pathology, his appointment as Professor Emeritus of Pathology was approved by the University, effective March 1, 2020.
Dr. Sirica is an internationally recognized biomedical researcher and scholar in the areas of liver carcinogenesis, cholangiocyte biology and pathobiology, and cholangiocarcinoma, with extensive experience and expertise in cell and molecular cholangiocarcinogenesis and preclinical experimental therapeutics of cholangiocarcinoma. His laboratory has made seminal discoveries related to cholangiocyte cell culture and to cholangiocyte adaptation responses to hepatic injury and carcinogenesis, on establishing novel in situ, orthotopic, and organotypic rat models of human cholangiocarcinoma closely mimicking the human disease, and on elucidating cholangiocyte and cholangiocarcinoma cell growth pathways. His most recent research was focused on establishing the role of cancer-associated fibroblasts in promoting cholangiocarcinoma progression, as well as investigating novel molecular targeting strategies for cholangiocarcinoma therapy in preclinical models.
As principal investigator, Dr. Sirica had, since 1981, been continuously funded by the National Cancer Institute of the National Institutes of Health for more than 30 years, with his last awarded 5-year competing NIH R01 grant having extended this sustained funding to May, 2019. In the past, he has also received funding from the Virginia State Department of Health, a Merck Research grant, and various other private and institutional funding sources. He has served as a regular member of the NIH Metabolic Pathology Study Section (1991-1995) and of the American Cancer Society Scientific Advisory Committee on Carcinogenesis and Nutrition (1989-1992). In addition, since 1980, he has served as a reviewer (or in two instances chair) on numerous review panels and/or site visit teams for NIH, ACS, as well as other funding agencies.
Dr. Sirica is currently an emeritus or senior member of 13 professional societies, including the American Association for Cancer Research, the American Society for Investigative Pathology, where he served as Program Committee Chair from 1994-1996, the American Society for Cell Biology, the American Association for the Study of Liver Diseases, to which he was elected as a Fellow in 2014, and the American Gastroenterological Association, to which he was made a Fellow in 2009. His honors also include being the recipient in 2000 of a Burroughs Welcome Visiting Professorship in the Basic Biomedical Sciences at Pennsylvania State University College of Medicine, in 2002 and 2007 of VCU School of Medicine Recognition Awards for research, and in 2012 being recipient of the Dr. and Mrs. Michael A. Gerber Memorial Lectureship at Tulane University School of Medicine.
In June 2019, he was recognized by Expertscape as an Expertscape World Expert in Cholangiocarcinoma (Top 0.1% Expert). He has served on six editorial boards, has organized and chaired several national scientific conferences, including two FASEB Summer Research Conferences and two American Association for the Study of Liver Diseases Single Topic Conferences, and more recently "Hepatobiliary Cancers: Pathobiology and Translational Advances", co-sponsored in part by the American Association for the Study of Liver Diseases and The Cholangiocarcinoma Foundation, and held at the Virginia Crossings Hotel and Conference Center in Glen Allen, VA on December 7-10, 2017.
He currently serves as the primary organizer, along with Dr. Gregory Gores of the Mayo Clinic and Dr. Lopa Mishra of George Washington University as co-organizers, of a Keystone Symposium titled " Hepatobiliary Cancers: Pathobiology and Translational Advances", to be held as a Keystone e-symposium in March 22-24, 2021(https://virtual.keystonesymposia.org/ks/live/668/page/5598 ), as well as Organizer and Chair of a FASEB Catalyst Conference titled "Cholangiocarcinoma: Molecular Drivers, Microenvironment, and Precision Medicine" to be held as a virtual event on April 7, 2021(https://faseb.org/Science-Research-Conferences/Catalyst-Conferences).
In addition, he has edited and authored four books on topics including the pathobiology of neoplasia, experimental pathobiology (cellular and molecular pathogenesis), hepatocarcinogenesis, and bile and pancreatic duct pathobiology and pathophysiology, and has published his peer reviewed research in journals such as Proceedings of the National Academy of Science USA, Cancer Research, Hepatology, Gastroenterology, Nature Reviews Gastroenterology & Hepatology, Hepatology Research, Current Opinion in Gastroenterology, Hepatology Communications, and the American Journal of Pathology. One of his papers with Dr. Henry Pitot was made a citation classic by Citation Index in 1992, and two of his research papers were profiled on the covers of the American Journal of Pathology and Hepatology, respectively. Four other of his publications were also the subject of journal Editorials/Commentaries. It was also his most cherished achievement to have had the opportunity to serve as Major Advisor to 18 postdoctoral fellows, as well as to several graduate students, medical student trainees, undergraduates, visiting student scholars, and numerous laboratory staff members.
Article 12-9-20: Intrahepatic cholangiocarcinoma: Morpho-molecular pathology, tumor reactive microenvironment, and malignant progression
Research Interests: Chemical Carcinogenesis, Experimental Liver Cancer, Tumor Pathobiology, Biliary Epithelial Cell Biology and Pathobiology
Dr. Sirica's Web CV (pdf)