J. Chuck Harrell, PhD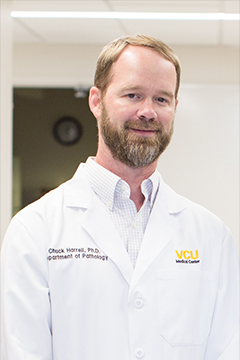 Metastasis
Assistant Professor of Pathology
Joshua.Harrell@vcuhealth.org
Office: (804) 828-8710
Fax: (804) 828-9749
Chuck Harrell, PhD has been on faculty as Assistant Professor in the Department of Pathology since May 2015. Dr. Harrell earned his Bachelors of Science in Biological Sciences from North Carolina State University. While there, he worked at the National Institute of Environmental Health Sciences under the guidance of Dr. Kenneth Korach, and his research focus was aimed at discovering roles for estrogen receptors in human health. Dr. Harrell received his PhD degree in Cell and Developmental Biology from the University of Colorado, studying with Dr. Kathryn Horwitz. His PhD thesis focused on developing and testing models of estrogen receptor positive breast cancer metastasis. For post-doctoral training in genomics and bioinformatics, he joined the laboratory of Dr. Charles Perou at the University of North Carolina at Chapel Hill.

Dr. Harrell's research program focuses on identifying mechanisms that facilitate breast cancer metastasis to different vital organs. His lab utilizes in vitro, in vivo, andin silico models to study each step of the metastatic cascade. To ensure the relevance of the models, the data obtained is contrasted with genomic data from patient tumors and metastases. Current projects are utilizing patient-derived-xenograft models to identify genetic drivers of metastasis, especially liver metastasis.
Dr. Harrell has been funded by the Department of Defense, Expedition Inspiration, Triple Negative Breast Cancer Foundation, and METAvivor. His peer-reviewed publications primarily focus on breast cancer metastasis, mammary gland biology, and ovarian cancer.
Research interests: Cancer genomics, metastasis, patient-derived breast cancer xenograft models, cancer-endothelial interactions
Click here for Dr. Harrell's Web CV (pdf)